Your kids favorite pediatric dentist is right here in the Plano / North Dallas area! Here at Fusion Orthodontics and Children's Dentistry, we understand the importance of providing the best dental care for children. We know whenever a kid visits their pediatric dentist for the first time that they are kind of nervous and hesitant to proceed with treatments. It is for this reason that we go above and beyond the basic pediatric dental office in Plano / North Dallas to ensure that your child actually enjoys visiting the dentist. We have tailored our office to give the purpose of not only becoming your child's favorite pediatric dentist, but also yours.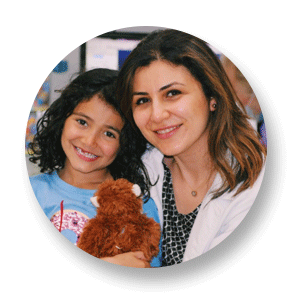 Dr. Niloofar Khalesseh
Our Plano dental office has a designated play area so kids can unwind and have fun as they wait for their name to be called. For each of our treatment rooms, we have a TV right above the dental chair so your child can watch their favorite show to focus on something else rather than their procedure.
At the end of each treatment, we give your kids a chance to choose from an array of toys and gifts from our treasure box to take home. Fusion Orthodontics & Children's Dentistry strives to make your visit a warm, fun, and easy experience that you and your child can remember.
Children's Dentistry Services
Regular dental check-ups and dental cleanings are essential to maintaining a long lasting quality smile. Our pediatric dentist Dr.Niloo, will thoroughly examine your child's teeth and gums for any signs of tooth decay or cavities. We use the best care possible in order to mitigate possible problems that may arise in the future, saving you money and unneeded headaches. Visiting us twice a year is enough your child to smile worry free!
Having your little one feel comfortable and at ease whenever they are at our dental office is our top priority. Although our pediatric dentist and staff members are exceedingly friendly and gentle, we know some children are still nervous and agitated despite our efforts. Dr.Niloo practices many types of sedation dentistry in order to keep your child safe and calm even through the most extensive treatments. If needed, we can treat patients under general anesthesia at Children's House at Baylor Medical Center.
Telling a child to not eat sweets is like telling a chicken to make goat cheese. It's frankly impossible. For this reason kids are more susceptible to develop cavities and other dental complications. Good thing here at Fusion Orthodontics & Children's Dentistry, we have an array of preventive treatments to help mitigate these risks. Fluoride treatments are known to be the best option to strengthen the enamel and help eliminate a cavity that has began to form.
Orthodontic Evaluation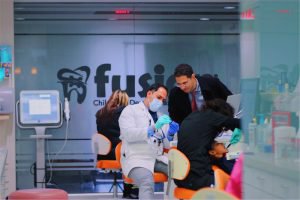 According to the American Association of Orthodontics, kids should be evaluated for orthodontic treatment by the age of 7. Lucky for you, we have orthodontics in our Plano / North Dallas office! Now, this doesn't mean your child needs braces, but early orthodontic treatment may be a solution if we find that your child needs orthodontics in order to prevent future problems.
Emergency Care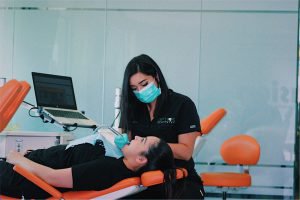 It's likely where that a child may experience a severe toothache or injure one of their teeth. In this case, it is best to know the best thing to do in situations like these. If something occurs to your child, don't hesitate to contact our Plano pediatric dentist office to put the smile back on your kid's face!
Other Services We Provide
Dental Habit Counseling
Crown Restorations
Pain Management
Bite Assessments
Wisdom Teeth Assessment