About Board Certification
What Is A Board Certified Orthodontist?
An orthodontist is a dentist who has not only completed a graduate program in dentistry to receive their DDS or DMD (Doctor of Dental Surgery or Doctor of Dental Medicine), but has also gone through a competitive residency at a CODA-accredited orthodontic program for an additional 2-3 years to be trained specifically in orthodontics and dentofacial orthopedics.
Achieving board certification is the last step in a long and extensive educational experience to ultimately provide excellent patient care.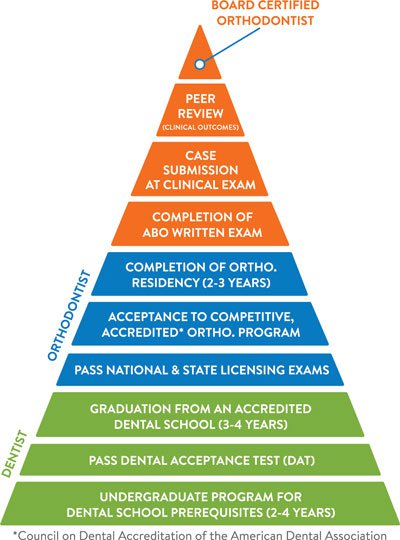 Frequently Asked Questions
Are All Orthodontists Board Certified? No, all orthodontists must be licensed to practice, however board certification is a voluntary achievement that not all orthodontist choose to pursue. In order to become board certified by the ABO, an individual orthodontist is thoroughly interviewed by a highly respected panel of examiners to demonstrate their orthodontic knowledge, clinical skills and judgment. Why Would An Orthodontist Choose To Complete This Voluntary  Certification  Process? Successful completion of the examination process demonstrates the orthodontist's highest commitment to excellence in orthodontics – to both the orthodontic profession and general public.
What Steps Are Required To Complete The Board Certification Process? The process involves a thorough Written Examination (240 questions) covering all areas of information which an orthodontist should be knowledgeable. Successful completion of this "board exam" allows the orthodontist to proceed to the Clinical Examination where they present detailed case reports from their practice/residency, demonstrating a history of excellence in patient care. These cases are evaluated by a panel of examiners and later discussed during an oral examination where the applicant is tested on a wide variety of academic and clinical topics. To find out more please visit American Board of Orthodontics.